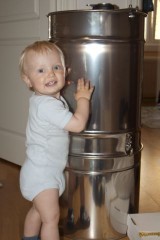 Det har gått med noen kroner denne første sesongen.  En del utstyr trengs, og med dagens tur til HC har jeg vel skaffet det meste jeg trenger.
Dagens største anskaffelse var en honningslynge.  Her ser dere Lars som viser den frem.  Dette er en 2-rammers håndslynge.
Det høres kanskje slitsomt ut med en håndslynge, men det er to veldig gode grunner for å kjøpe denne:  Den er liten (veldig praktisk i blokkleilighet, spesielt siden jeg da kan få den inn på kjøkkenet).  Og så er den billig.  Under halve prisen av den billigste motorslynga.  Den kostet "bare" 2800 kroner :-) Med bare to-tre kuber som blir min bigårdsstørrelse i overskuelig fremtid, så skal det nok gå som en drøm å slynge med håndkraft.
Slynga har altså plass til to rammer.  Her ser dere et bilde ovenfra.
Det følger med to pleksiglassplater som skal ligge over under slynging.  Jeg skjønte ikke umudllebart hvordan disse skulle sitte.  Det kan se ut som om jeg må løsne de to boltene dere ser øverst slik at jeg kan smette dem under metallbiten som går tvers over sylinderen.
Jeg måtte selvsagt prøveslynge litt.  Nå var det jo ikke noe vekt nedi, så testen blir jo ikke reell, men det gikk overraskende lett å sveive.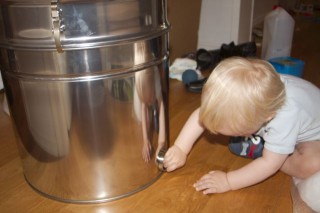 En annen veldig praktisk side ved denne slynga er at det følger med en tank som hektes under med en låsemekanisme.  Jeg har ikke sett noe tall på hvor stor den er, men den tar nok i hvertfall 20 kg.
Inne i tanken sitter en grovsil.  Tidligere har jeg kjøpt både grovsil og finsil som kan hektes over en 20-kilosbøtte før helling over fra denne tanken og over i bøtta.
Her ser dere Lars som inspiserer tappehullet.  I denne skal en tappekran festes.
Av annet honningbehandlingsutstyr kjøpte jeg slyngesil (for skrellvoks), rørestav (både for hånd, og for drill), slikkepott, honningskrape, skrellgaffel (jeg har en fra før, men den er full av dronelarveguffe), to 20-kilosbøtter, samt glass og plastbeger for det ferdige produktet.
Videre kjøpte jeg en HC-masseforer og en toppakning som jeg glemte forrige gang jeg var der.  Dette skal brukes i en planlagt kube nr. tre. Til slutt kjøpte jeg en merketusj for neste år (grønn), og behandlingsutstyr for varroa.  Dette inkluderer maursyre, oksalsyre, syrefaste hansker og vernebriller.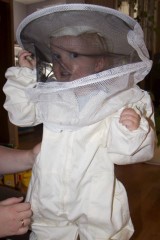 Rett før jeg gikk fikk jeg øye på denne barnebidressen.  Den bare måtte jeg kjøpe sammen med noen skinnhansker i størrelse XXXXS.  Den er litt stor for Lars enda, og jeg tar han nok ikke med denne sesongen (han er litt liten, og biene er sinte og mange så sent på året).  Men vi får se.  Kanskje tar jeg ham med til våren.  Dressen er i hvertfall klar :-)
Det eneste jeg nå mangler er en håndløsner for lynghonning.  Jeg vet ikke om jeg får noe lynghonning enda.  Sommerhonningen er fortsatt i kuba, så jeg får kanskje blandingshonning om det blir lyngtrekk.  Jeg har imidlertid ikke så alt for stor tro på det, men vi får se.  Uansett hadde de ikke denne inne på HC i dag.  De får ny inn i slutten av neste uke.  Jeg må tenke litt på om jeg skal ta meg en ny tur til uka.
Da er det bare å vente på innhøstingen!