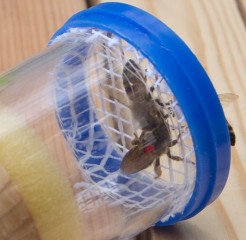 Yess!! Jeg har en eggleggende dronning i avleggeren min! Jeg var kjempespent da jeg åpnet kuba i dag.  Biene var snille, og jeg brukte ikke mer røyk enn det lille jeg blåste inn i flyhullet før jeg begynte.
På tredje bakerste ramme fant jeg egg.  Ingen larver, men egg, og de lå pent i bunnen en og en.  Kun en eneste celle så jeg to egg i.  Alle de andre hadde ett eneste liggende helt nede i bunnet.  Et meget godt tegn.  Så etter en stund så jeg henne!  Den nye dronninga mi!
Jeg bestemte meg der og da for å merke henne.  Siden hun allerede la egg og var ferdig med paringsflukt så var det like greit å merke henne.  Jeg tuslet tilbake til sekken min og fant frem merkeutstyret mitt.
Det er alltid ekkelt å fange dronninga.  Konsekvensen er enorm om jeg skader eller dreper henne.  Panikken ble derfor betydelig da jeg skulle fange henne, og klypa gikk over to bier.  Jeg trodde den ene var dronninga.  Jeg slapp litt opp, og bort fløy de.  Og så så jeg ikke mer til dronninga.  Hva hadde skjedd?  Hadde jeg skadet henne?  Hadde hun fløyet sin vei? Fjærbelastningen skal være så lav at den ikke skal kunne skade henne, men likevel?  Men så etter tre-fire minutter fant jeg henne igjen på den andre siden av ramma.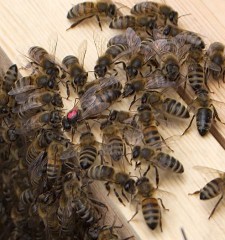 Nytt forsøk, og denne gangen gikk det bedre.  Jeg fanget henne og 5-6 arbeidere.  Det var ganske fullt i dronningfangeren.  Det ble litt styr å bli kvitt arbeiderne.  De ville ikke ut!  Og så kom det til flere andre bier som ville bort til dronninga si.  Jeg ble omsider kvitt alle utenom ei som nekta å forlate dronninga.  Hun fikk bli med over i merkeburet.
Overføringen til merkeburet gikk smertefritt (det er ingen sak når først dronninga er fanget). Selve merkingen gikk også greit.  jeg lot henne tørke en fem minutters tid i merkeburet.  Og på slutten var hun helt omsvermet av bier som pleiet henne gjennom nettingen.
Det var faktisk ikke helt uproblematisk å få henne ut.  Hun ville liksom ikke gå ut av merkeburet.  Men flere og flere arbeidere kom inn, og til slutt gikk hun ut på ei av listene.  Men så ville hun ikke ned!  Etter 3-4 minutter med pleie fra hoffet sitt tuslet hun til slutt ned i kuba. Det var med stor lettelse jeg lukket topplistkuba mi!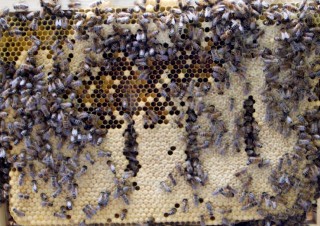 Den vanlige kuba var i farta!  Yngelrommet var ganske fullt av lukket yngel, men det var fortsatt plass til dronninga.  Hun så jeg forresten på nest bakerste ramme.
Det hadde ikke kommet noe særlig mer honning.  Jeg må tippe litt på mengden siden det ikke er så mye lukka celler enda, men jeg tror kanskje jeg har en full kasse tilsammen i de to skattekassene jeg har på nå.  Det er jo en del honning det også :-)
På bildet her ser dere forresten hvorfor det er viktig å smelte inn rammetråden skikkelig.  Her har jeg gjort en slett jobb, og dronninga vil ikke legge egg i celler som har en bar rammetråd.  Så dermed får jeg noen rekker med tomme celler blant alle cellene med lukket yngel.
Så blir det spennde å se hvordan avleggeren utvikler seg!  Nå er det ordentlig moro å eie en topplistkube igjen! :-)  Denne kuba har gitt meg fryktelig mye hodebry, men jammen har jeg ikke lært mye i år.  Veldig mye takket være Ole-Dag som har vært tilgjengelig hele veien for alle mine panikker og rare spørsmål!