For to og en halv uke siden foretok jeg første inspeksjon. Det var fortsatt en del snø igjen, men biene var igang. Alle tre kubene hadde aktivitet og dro inn pollen. et godt tegn! Temperaturen var for kald til noe særlig inspeksjon. Jeg åpnet bare den ene så vidt og sjekket fôrnivået. Og så sammenlignet jeg med vekten til de to andre. Den ene var klart tyngre enn de to andre, men jeg så ikke så stor forskjell på aktiviteten.
Alle kubene fikk rengjorte bunnbrett. Etter tips fra Ole-Dag skaffet jeg meg en mursparkel for å skrape bunnbrettene og diagnosebrettene. Det gikk
mye
fortere. Så dro jeg over en gassgflamme for å desinfisere.
Til slutt fikk alle kubebeina en runde med vselin for å hindre mauren å komme seg så lett opp. Så mye mer skjedde ikke denne gangen.
To uker senere (i helgen som var) sjekket jeg igjen. Denne gangen var det 18 grader på kubeplassen og jeg kunne sjekke mye bedre. Det ble ikke noen positiv opplevelse.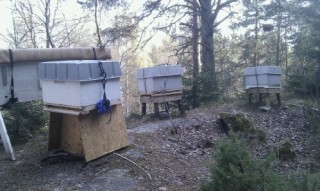 Snøen var borte og det var aktivitet ved kubene, men da jeg kikket nedi var det store forskjeller. Den ene som fikk ny dronning i fjor gikk ganske bra. En del yngel, mye fôr igjen enda. Kun litt mugg nederst på de bakerste rammene. Veldig lite, men en indikasjon på at det har vært litt fuktig vår der. Jeg angret umiddelbart på at jeg ikke måkte litt mer rundt kubene og fjernet snøen på takene.

Den neste (med gammel dronning) var veldig svak. Kun litt yngel, lite mat og generelt veldig lite bier. Den siste var en enda større skuffelse. Denne hadde bare droneyngel, men var faktisk litt stekere enn den andre kuben. De to kubene her var ikke så mye å samle på. Jeg gikk utifra at jeg hadde eggleggende arbeider. Først på vei hjem kom jeg på at jeg hadde glemt å sjekke om det kun var ett og ett egg i cellene og egg midt i cellene som tyder på droneleggende dronning. Da gjorde jeg i tilfelle en bommert. For det jeg gjorde var å fjerne rammene med droneyngel, erstatte med ny pakkramme, og sette over den andre kuben med bitømmerbrett og avispapir imellom. I tilegg fikk kuben under en ramme med mye yngel og en ramme med mye fôr fra den sterke kuba.

Den svake kuba med dronning hadde enda mer mugg nederst. Det var ikke ekstremt mye, bare litt nederst. Jeg vurderte litt frem og tilbake, men det var en del nektar og pollen i rammene, så jeg lot de bli, men fjernet voksen nederst som hadde mugg på seg og skrapte av rammene. Håper biene er sterke nok til å ta resten.

Den eneste skikkelige positive tingen var at mauren så ut til å la dem være i fred. De var mange av dem under, men kun en og annen på selve kubene. Vaselinen så ut til å ha gjort jobben sin.

Våren har kommet og jeg har hatt et par inspeksjoner. Tida har bare gått så alt for fort, og det har gått dårlig med bloggingen.