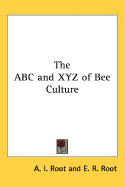 I går ramlet det enda en hentelapp for en birøkterbok i postkassa.  Denne gangen var det for The ABC and XYZ of Bee Culture.  Den er et gjenopptrykk av 1947-utgaven, og er et oppslagsverk på over 700 sider.  Boka er gammel, og trykket litt preget av å være kopiert.  Bildene er ikke de beste, men innholdet ellers er like leselig.
1947-utgaven er en oppdatert versjon av utgaven fra slutten av 1800-tallet.  Boka er altså svært gammel, men fortsatt ansett for å være av de bedre bøkene på markedet.
Jeg har bladd litt i den i helgen, og er svært så fornøyd med kjøpet.  Her kan man slå opp det meste, og selv om noe av informasjonen er foreldet, så er det meste fortsatt like aktuelt.