Det nærmer seg vinter, og i dag var det siste gang jeg åpnet kubene før vinteren.  Det var sent på kvelden, og snart var alt lyset borte. Det meste av jobben ble gjort i måneskinn.  Det holdt stort sett, men av og til måtte jeg hjelpe til med lyset fra mobilen.  Litt upraktisk, og jobben gikk nok en del treigere uten lys :-)
Jeg fjernet utstyret for maursyrebehandling i begge kubene.  Siden det var såpass kaldt med 5.5 grader, så var biene særdeles rolig og kun et par stykker tok til vingene.
I tillegg tok jeg med meg en neve bier for trakémiddprøve.  Disse tok veien rett i fryseren da jeg kom hjem siden dette er den pålagte avlivningsmetoden ved denne prøven.  60 av disse biene skal sendes inn til Mattilsynet i posten.
I topplistkuba så var det åpent til siderommet etter innfôringen.  Jeg stengte ikke slåen til hullene, men tettet hullet i isoporen som ligger inntil.  Flybrettet fjernet jeg før vinteren.  Det er en halvannen centimeter bred list som lå under flyhullene.  Dette er avtagbart, og ble fjernet så kjøttmeisen ikke skal få et fint sted å stå for å spise biene. Dessverre har jeg ingen like god løsning for den vanlige kuba.  Jeg får håpe den ikke blir et fuglebrett i vinter.  Kjøttmeisen er fæl til å hakke på kuba til biene stikker hodet ut, og så spiser kjøttmeisen biene som er god mat på en årstid med lite mat ellers.
Jeg fjernet også restene etter innfôringen.  Dvs. en bøtte samt en del voks.  Det sto noen lister og et par rammer for at biene skulle tømme dem.  De fikk aldri tømt dem skikkelig, og de kan ikke stå i kuba over vinteren i den delen det ikke er bier.  Det er å be om problemer fra maur osv.  Jeg har ikke fryserplass til dem heller, og siden de ikke er forseglet så har jeg ikke annet valg enn å smelte om.  Jeg knekte av voksen fra to lister.  Den ene ramma var tømt bortsett fra noen forseglede celler, men det går bra.  Den siste ramma hadde faktisk mugget litt.  Dermed må jeg kassere denne.  Kjedelig!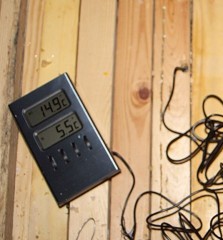 Det siste jeg gjorde var å bore et hull i den ene liste på den midtre lista av de sju biene står på nå. I dette huløllet dyttet jeg inn temperaturmåleren for ute-temperaturen i et termometer som skal måle inne og utetemperatur.
Som dere ser på bildet var utetemperaturen (målt som "innetemperatur") 5.5 grader, mens det rett under topplista var 14.9 grader.
Planen er å kunne sjekke kuba midtvinters for å se om de lever der inne.  På denne tida må de ikke forstyrres, og jeg tør ikke å åpne inspeksjonsvinduet engang.  Jeg sleit litt med å plassere selve termometeret.  En mulighet var å plassere det under taket.  Men da ville jeg kunne forstyrre biene ved måling.  Nærmere våren vil ikke dette være noe problem, men midt på vinteren er ikke det så lurt.  Jeg fant til slutt ut at jeg kunne lure termometeret opp under siden på taket på den ene kortveggen, og smette den opp ved siden av isoporen som ligger over listene.  Der ligger den trygt for regn og snø, og jeg kan lett ta den ut igjen og måle temperaturen midt på vinteren uten å løfte av taket eller forstyrre biene på annen måte.
Avhengig av hvor klasen står, så vil temperaturen være en del høyere enn utetemperaturen.  Batteriet har jeg tatt ut siden det ville ha blitt brukt opp fort ellers.  Dessuten er den operative grensen -10 grader for "innedelen", så jeg får heller ha med meg batteri og sette inn når jeg skal måle.  Det skal bli veldig artig å sjekke hvordan dette fungerer til vinteren.
Nå kan vinteren bare komme til bigården!
Jeg har forresten tappet honningen på glass også, men mer om dette i en senere post…